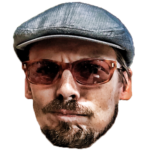 I'm primarily a dilettante, but I also dabble in doing a bunch of other things half-assed.
Here's some of what I've done:
We started GMB in 2010 to teach people how to get more athletic without defaulting to the typical fitness lifestyle – moving better without all the spray tan.
I've had dozens of blogs over the years for different purposes. These days, if I write anything worthwhile, it goes here.
Taido is a martial art I've been practicing since 1984. It's weird and little-known, so I made this website as a resource for the people who practice it.
The Andy Fossett Rock Supreme was a joke about a joke about a band about a joke. I still make music, and someday I plan to record more of it.